Hoge scores en prijzen bij Zoover
Wij zijn erg trots dat wij al sinds 2010 structureel in de prijzen vallen bij Zoover!


2019, 2018 & 2017
Holiday home Tawibo Stuga , Svenstorps Stjärnan, and Karins Stuga
has won a Zoover Award Gold. A wonderfull reward from our guests!
2016 & 2015
Beste vakantiehuis in Zweden, eerste plaats - Svenstorps Stjärnan
Beste vakantiehuis in Zweden, tweede plaats - Tawibo Stuga
2014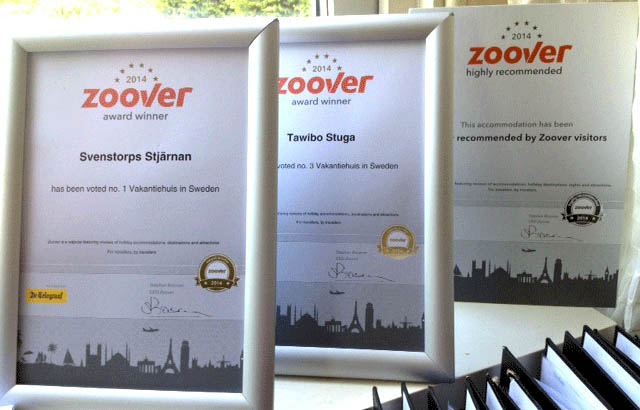 2013
Dear accommodation provider,
Your accommodation is one of the best reviewed by visitors to our European websites and has won a Zoover
Highly Recommended 2011/2012 and 2013.
Congratulations!
For the fifth successive year Zoover Holiday Reviews is presenting the Zoover Award, Highly Recommended and Recommended according to our database results. The consumer decides, since it is the reviews on Zoover that determine which accommodations receive a Zoover Highly Recommended. The Highly Recommendeds are being given to the accommodations which have performed exceptionally well in their own country.
In addition to the Zoover Highly Recommended you will also receive an information and promotion pack. In the pack you will find tools that can help you promote your accommodation even better on our Zoover sites and so encourage more reviews for your accommodation. Because: more reviews means more guests means more business!
Would you like to be in the running for a Zoover Recommended, Highly Recommended or Award next year? Then integrate the free Zoover gadgets into your website so that your guests can leave a review of your accommodation. You can find the Zoover gadgets at www.zoover.com , in the right-hand column on your accommodation page in the block entitled: Zoover link on your website.
Best regards,


Stephan Bosman
CEO Zoover